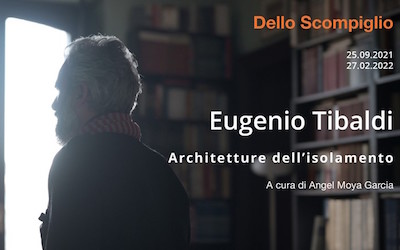 Architetture dell'isolamento / Architecture of isolation, is a complex and articulated project that makes up an analysis of margins, power, crossings and the very concept of normality. An exhibition project facing mess and deprivation through isolation, madness and the complete reluctance of social life by Eugenio Tibaldi, curated by Angel Moya Garcia.

After the first lockdown in March 2020, Eugenio Tibaldi visited an elegant apartment abandoned for years. He investigated objects of every type and origin found inside the flat: A huge amount of materials collected obsessively by the person who had spent his last ten years of life confined there, refusing any contact with the outside world.
In occasion of the last weekend of the exhibition:
Saturday 26 and Sunday 27 February
2.00 pm / 6.00 pm - Presentation of the docufilm " Architetture dell'isolamento" by Lorenzo Morandi, written together with the artist, which documents the conceptual and physical process of conception and construction, followed by the artist to compose the project.
The video will be visible in loop inside the theater for the entire opening hours of the SPE - Spazio Performatico and Espositivo Dello Scompiglio.
Saturday 26 February
6.00 pm - Talk between Eugenio Tibaldi and Angel Moya Garcia. Artist and curator retrace the development and production phases of the project created specifically for the Scompiglio exhibition spaces.
For info and reservations please call +39 0583 971125 or write an email to biglietteria@delloscompiglio.org.
Dates
September 25, 2021 / February 27, 2022
Start / End Time
from Thursday to Saturday 2:00 pm / 6:00 pm
Place
Tenuta dello Scompiglio. Via di Vorno, 67 – loc. Vorno, Capannori (LU)