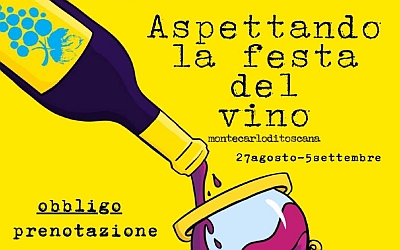 Waiting for the Wine Festival ... The Montecarlo wine festival is back from 27 August to 5 September with a new edition and many new features.
3 locations, reachable only by the shuttle service, to taste wine and typical products: in Piazza d'Armi, in Piazza Garibaldi with about 80 places available for a wine tasting under the Stars Vini sotto le Stelle and in the garden of the Pellegrini-Carmignani palace which hosts the traditional Salotto del Vino e del Verde: 6 events with presentation of traditional food to accompany the wines of two local farms.
Instead of the markets and the usual shows, the figures of the historical group of Montecarlo accompany the events by animating the locations. The spaces are larger and the tables reduced and organized in two shifts: at 7:30 pm and at 9:30 pm.
Reservation required.
For Info and reservations: +39 366 4821229 (Piazza d'Armi) / +39 339 7358110 - +39 333 3570960 (Vini sotto le stelle) / +39 0583 228881 (every day 9:30 am / 12:30 pm - 3:30 pm / 6:00 pm) - +39 338 1087709 (Salotto del Vino e del Verde).
Dates
August 27 / September 5, 2021
Start / End Time
7:30 pm / 12:00 am