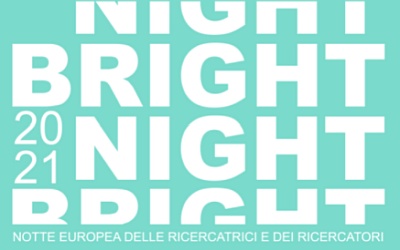 XV edition of the European Night of Research called Bright-Night (Brilliant Researchers Impact on Growth Health and Trust in research) in Tuscany.
An initiative held every year simultaneously in hundreds of cities throughout Europe, to create opportunities for researchers and citizens to meet and to spread scientific culture and knowledge of research professions. The event takes place every year on the last Friday of September
Sustainability, environment, climate, health, technology, society, history and, in homage to Dante's anniversary: many are the themes of this "Bright Night" on Friday September 24 and on Saturday September 25, with researchers from all over Tuscany, many opportunities for activities for the little ones and guided tours to science museums, libraries, laboratories and departments, music and entertainment.
In the IMT School program:
Il Cervello al buio, to test your senses once the light is turned off in escape rooms and video games for a sustainable community.
Book presentations, experiments that help in new daily life of a pandemic.
Events for children to discover emotions.
Lucca svelata, sguardi curiosi su (in)soliti luoghi (Lucca unveiled, a curious view on (in) usual places), a podcast in 5 episodes to discover more or less known places in the city, streets and stories.
The event is part of the Settembre lucchese 2021 program.
Dates
September 25 / 26, 2021