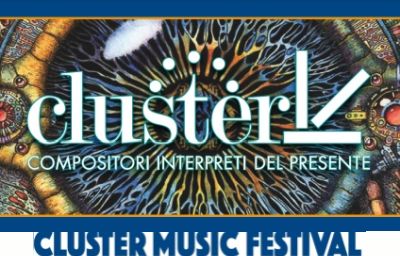 11th edition of Cluster Music Festival, an event organized by the Cluster association from Lucca with the artistic direction of Renzo Cresti. A particular tribute to contemporary music with a series of events ranging from the presentation of new CDs and books dedicated to contemporary music, to world premier concerts, to meetings with renowned composers and scientists.
The association, created to promote the great musical heritage of the city, in particular compositions that made Lucca's music famous over the centuries.
Scheduled today, Saturday 9 October
5:00 pm | Caffè Letterario Lucca Libri
Book and music presentations. 
Books: Nicola Cisternino, Luigi Nono Caminantes – Stefano Teani, L'epoca dell'essere.
Cds: Ilaria Baldaccini, Notturni – Gianmarco Caselli, Acid Ambient Zone – Mario Cesa, 5 cd della EMA Vinci Records Omaggio a Cesa – Alessandro Magini – Five around the Sax.
For further information: tel. +39 347 1856883 - presidency@clustermusic.net
Dates
October 2 / 16, 2021
Place
Caffè Letterario Lucca Libri. Viale Regina Margherita, 113 - Lucca