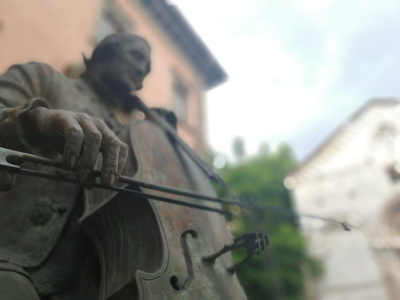 The Higher Institute of Music Studies "L. Boccherini" together with the patronage of the City of Lucca, the support of the Cassa di Risparmio Foundation and the collaboration of the Lucca Music Association, presents the Epiphany Concert on Wednesday 6 January. Conductor, GianPaolo Mazzoli, narrator, Sandro Cappelletto, ISSM Orchestra "L. Boccherini".
4:00 pm / 6:00 pm - broadcast on RTV38, digital terrestrial tv channel 15;
9:00 pm / 11:00 pm - broadcast on NoiTv, channel 10 digital terrestrial tv.
Music by:
Engelbert Humperdinck, Ouverture from Hänsel und Gretel;
Johann Strauss Jr., Frühlingsstimmen (Spring voices), Valzer op. 410;
Jules Massenet, Méditation da Thaïs. Alberto Bologni, solist violin;
Leroy Anderson, Typewriter, for typewriter and orchestra. Marco Costantini, typewriter;
Johann Strauss Jr., Bauern-Polka (French Polka), op. 276;
Johann Strauss Jr., Tritsch-Tratsch (Quick Polka), op. 214;
Johann Strauss Jr., An der schönen, blauen Donau (To the beautiful blue Danube), op. 314;
Josef Strauss, Feuerfest! (French Polka) op. 269;
Jacques Offenbach, Can Can from Orpheus to hell.
The concert, due to the recent national provisions on the containment and management of the epidemiological emergency COVID-19, was recorded in the Church of San Francesco in Lucca from 19 to 24 December 2020.
Start / End Time
4:00 pm / 6:00 pm - 9:00 pm / 11:00 pm
Place
Online streaming / TV