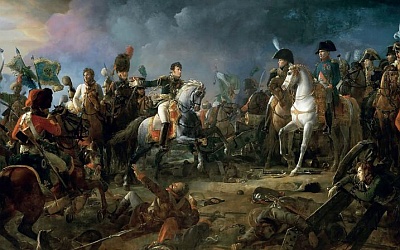 2020: Elisa 200 anni is the annual calendar of initiatives conceived and organized by the "Napoleone e Elisa: da Parigi alla Toscana" association to commemorate the 200th anniversary of the Princess of Lucca's death on 7 August 1820.
Scheduled today, Tuesday 19 October
5.00 pm - Auditorium of the Banca del Monte di Lucca Foundation | Dalle nebbie della Manica al sole di Austerlitz. La campagna di Napoleone contro la Terza Coalizione (1803-1805) (From the mist of the Channel to the sun of Austerlitz. Napoleon's campaign against the Third Coalition (1803-1805)). Conference in Italian language with General C.A. (ris.) Silvio Ghiselli and Colonel (ris.) Vittorio Lino Biondi in collaboration with the CISCU - International Center for the Study of Urban Circles.
The most powerful states of Europe clashed in a conflict (1803-1805) that affected the entire continent and the surrounding seas. France faced the challenge of the greatest European Powers, which coalesced once again against her.
Dates
January / December 2021
Start / End Time
5:00 pm / 7:00 pm
Place
Auditorium della Fondazione Banca del Monte di Lucca. Piazza San Martino, 4 - Lucca