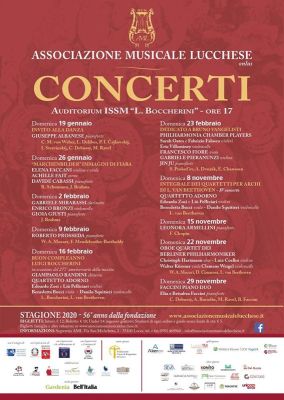 The streets of classical music bring to Lucca the great interpreters of the international scene for the 56th edition of the Chamber Season of the Associazione Musicale Lucchese.
A program, that of the Chamber Music, full of great names that offer a fascinating and unusual repertoire. From Berlin to London, chamber groups formed by other famous interpreters are also guests of the Season.
A very rich program, therefore, which begins in January and continues towards the spring appointment with Lucca Classica, which is joined by a renewed attention to the public.
Sunday 8 November
5:00 pm - Suffragio Auditorium - Integral of the String Quartets by L. van Beethoven – IV concert.
Adorno quartet, strings.
Music by L. van Beethoven
Dates
19 juanuary / 29 november 2020
Ticket
€ 5,00 / € 12,00. Subscriptions and reductions are provided by law.