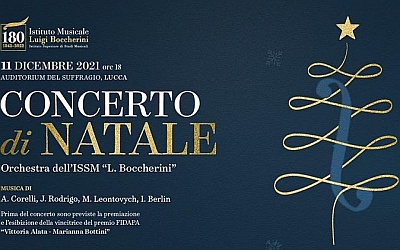 Christmas concert with the orchestra of the Higher Institute of Musical Studies "L. Boccherini " on Saturday 11 December from 6:00 pm to 8:00 pm at the Auditorium del Suffragio. A traditional event organised by the city's conservatory every year.
At the opening award ceremony and exhibition of the winner of the "Vittoria Alata - Marianna Bottini" award by FIDAPA - Italian Federation of women, arts, professions and business.
Following:
- Arcangelo Corelli, Concerto Grosso n ° 8, op. 6 "Fatto per la Notte di Natale"". Manuel Del Ghingaro, director.
- Joaquín Rodrigo, Aranjuez Concert. Lorenzo Biagi, director; González Nájera José Andrés, lead guitar.
- Peter Wilhousky, Carol of the Bells. Nicola Frendo, director.
- Irving Berlin, White Christmas. Nicola Frendo, director; Nicola Farnesi, voice.
Start / End Time
6:00 pm / 8:00 pm
Place
Auditorium del Suffragio. Piazza del Suffragio, 6 - Lucca