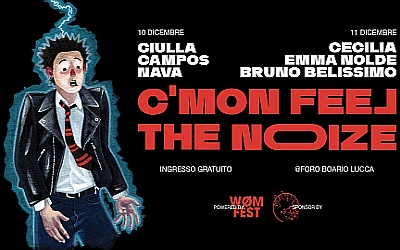 C'mon Feel The Noize is a new "indoor" format of the WØM FEST. Two events with live music, standing just like in the past, on Friday 10 and on Saturday 11 December at 9:30 pm at the Foro Boario in Lucca.
During the concert, the students of the "Volontariato in scena - L'arte di ricevere donando" project promoted by the A.P.S. Cre.A specialized in Specific Learning Difficulties and Disorders, will be present.
Program:
Friday 10 December
Music with Ciulla, Campos and Nava.
Saturday 11 December
Music with cecilia, Emma Nolde and Bruno Belissimo.
Dates
December 10 / 11, 2021
Place
Foro Boario. Via per Camaiore, 124 - Lucca