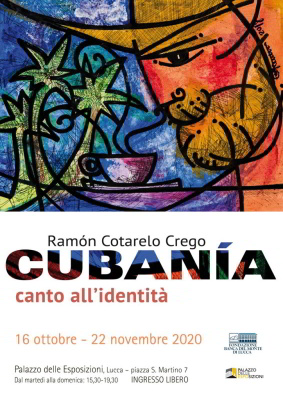 Cubanìa. Canto all'identità: (a Song for identity). The great painting exhibition of the Italian/Cuban artist Ramón Cotarelo Crego, in Lucca from October 16 to November 22 at the Palazzo delle Esposizioni of the Banca del Monte Foundation.
Born in Cuba in 1951 and living in Viareggio since 2000, he introduced in his paintings impressive landscapes, intense colors and wonderful artistic motivations.
In his art the national Cuban tree is dominating the scene: the royal palm tree, symbol of integrity because "it is flexible, but it does not break", and it is a tribute coming from the deep of his heart, born from a Martian seed at an early age.
The exhibition includes unpublished and very colorful works created between 2018 and 2020, 3 of them dedicated to Lucca with the choice of three symbolic subjects: Ilaria Del Carretto, the labyrinth and the facade of the Cathedral in its 950th anniversary.
Inauguration on Friday, October 16 at 5:30 pm.
On Sunday 18, Thursday 22 and 29 October, Thursday 5, 12 and 19 November 2020, at
4:00 pm / 4:45 pm / 5:30 pm - Free guided tours with the artist - Reservation required by writing to mostre@fondazionebmlucca.it or by calling +39 0583 464062.
*** Due to the latest national regulations following the prime ministerial decree of 03/11/2020 the exhibition is closed on Thursday 5 November ***
Dates
October 16 / November 22, 2020
Start / End Time
3:30 pm / 7:30 pm. Closed on Mondays.
Place
Palazzo delle Esposizioni della Fondazione Banca del Monte - Piazza san Martino, 7 - Lucca