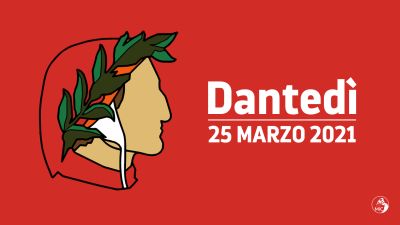 2nd celebration of Dante-Day, the day dedicated to Dante Alighieri recently established by the Government (www.beniculturali.it/dantedì). In fact, March 25 is the date that scholars identify as the beginning of the celestial journey of the Divine Comedy.
The 2021 edition is the most significant, because it coincides with the 700th anniversary of death of the Supreme Poet.
The city of Lucca also participates in the celebrations with a series of initiatives proposed by the museums, archives and libraries.
The program:
5:00 pm - Live streaming from the Lucca State Library on the YT / Amici del Machiavelli | Poesia della luce e delle tenebre nella Commedia di Dante. Conference with Prof. Fabio Greco. Texts required to follow the meeting. Poster (.pdf).
Online on YT / channel/LiveLoveLucca | Dantedì dell'Agorà. The Agorà Civic Library participates by posting a video with Marco Brinzi reading and commenting Dante for the Library on the website and on social networks with the official hashtag # Dantedì and #IoleggoDante.