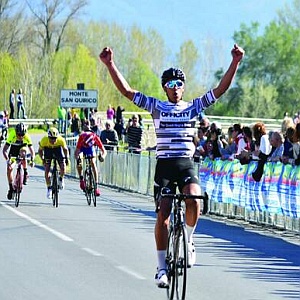 70th edition of the Giuseppe Cei Cup in Monte San Quirico on Sunday 28 March at 2:30 pm. The national cycling event that traditionally marks the beginning of the season for the cadet category.
The classic route is over 60 kilometers with start and arrival from the structures of the nineteenth-century market of the Foro Boario in Montescendi, Monte San Quirico. The route includes six flat laps of 8 kilometers each involving via della Freddana, Ponte Del Giglio, via dei Borelli, Sant'Alessio, Monte San Quirico, then a seventh lap which includes the ascent of San Martino in Vignale located 5 kilometers from the arrival where the Grand Prix of the mountains, named after Michela Fanini, is located.
The competition is closed to the public. Possibility to follow the live news of the race in text format on the ItaliaCiclismo.net site, on FB / DanielGuidiOfficial and FB / italiaciclismo/Ciclismo-Live.
Start / End Time
2:30 pm / 4:30 pm
Place
Foro Boario in loc. Montescendi, Monte San Quirico, Lucca