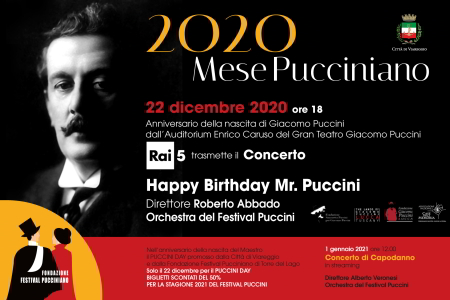 The Puccini Festival of Torre del Lago and the City of Viareggio with Rai 5 and the concerned local institutions Lands of Giacomo Puccini, the Simonetta Puccini Foundation, the Giacomo Puccini Foundation and the association lucchesi nel mondo celebrate Giacomo Puccini's birthday with a concert.
Scheduled today Tuesday 22 December at 6:00 pm on Rai 5, from the Enrico Caruso auditorium of the Gran Teatro Giacomo Puccini | Happy Birthday Mr. Puccini. Concert conducted by Roberto Abbado leading the orchestra of the Puccini Festival.
In the program music by Wagner, Overture from Rienzi, P. Mascagni Intermezzo from Cavalleria Rusticana and Ponchielli (Danza delle ore from La Gioconda) as well as Giacomo Puccini (Symphonic Prelude and Capriccio Sinfonico).
On the anniversary of the birth of the Tuscan genius, the Puccini Festival Foundation also celebrates the maestro with the Puccini Day, by offering the purchase of tickets for the 2021 Puccini Festival with a 50% discount only on the 22nd of December.