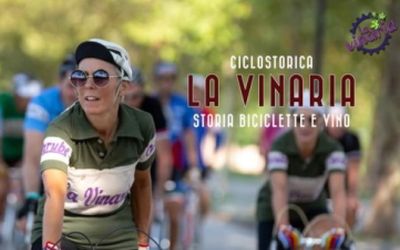 Non-competitive sporting vintage event La Vinaria - Stories of bicycles and wine.
On Sunday 22 August at 8:30 am from the market square of Marlia start of the 5th edition of the legendary La Vinaria event. Non-competitive race for those who want to combine passion, fun, nature and an amazing landscape, good food and wine, riding their bike in company
Many refreshment points are  set along the routes and at the arrival in the market square of Marlia.
The routes:
short (green) - 47 Km: for cyclists who want to enjoy the landscape and excellent refreshments along the route,
long (red) - 78 Km: for adventurous cyclists who are not afraid of climbs and want to have a breathtaking view on the hills of Lucca and the "witches' oak".
Details and rules of the event are available on the La Vinaria website.
Dates
August 20 / 22, 2021
Start / End Time
8:00 am / 3:30 pm
Place
Piazza del Mercato Di Marlia, Piazza del Mercato, 4 - Capannori (LU)
Ticket
€ 20,00 / € 30,00 / € 35,00