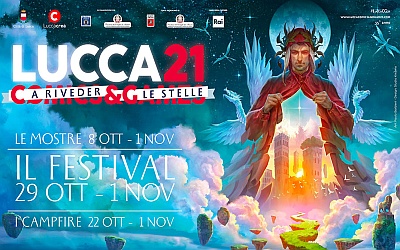 Lucca Comics & Games...a riveder le stelle - Light is back in attendance.
The biggest city event will be held over 4 days, from 29 October to 1 November, representing also the most important community event in Europe dedicated to comics, gaming, video games, animation, and fantasy.
As usual, great exhibitions are part of the event offering visitors the best of comics creativity and a reflection about important contemporary themes.
Free admission until 28 October, with tickets on festival days (Tue-Thu-Fri: 3:00 pm - 7:00 pm - Sat-Sun: 9:00 am - 1:00 pm and 2:00 pm - 7:00 pm - During Festival days 9: 00 am - 7:00 pm)
From 8 October to 1 November at Palazzo Ducale
Will Eisner, il gigante - One of the greatest comic writers of all time, the father of the modern graphic novel.
Radice & Turconi: storie dalla casa senza nord - Teresa Radice and Stefano Turconi from the wonderful Disney world to novels based on great emotions.
I mille volti di Giacomo Bevilacqua - One of the comic phenomena that emerged from the infinite vastness of the Internet.
Fumetti nei musei. Gli autoritratti degli Uffizi - 52 self-portraits of some of the funniest Italian comic-writers in the collection of the Uffizi gallery.
From 22 October to 1 November at Palazzo dell'Illustrazione of the BML Foundation.
Absolutely Necessary Comics: la finestra sul mondo di Walter Leoni - Author born and professionally grown on the internet and Winner of the "Changes Prize" Best Newcomer 2020.
Pauhaus - Solo exhibition by Paolo Bruni, aka Pau, frontman of the band Negrita.
"Livio Sossi" Editorial Illustration Award - Exhibition of the selected designs by the Jury for the illustrated project starting from the unpublished story "I cavalieri delle buone maniere" by Pierdomenico Baccalario.

From 29 October to 1 November in the Servi church in Lucca
20 anni di CMON. 20 years of CMON, a guided tour through miniatures and artworks of the leading company in the world of board games.

Access to the stands, the festival areas and exhibitions is allowed only with tickets.

For ticket info: tel. +39 041 2719009 and luccacomicsandgames.com/it/2021/biglietti/
Online presale: https://luccacrea.vivaticket.it/
The complete program is available on www.luccacomicsandgames.it
Dates
October 8 / November 1, 2021
Ticket
€ 18,20 / € 162,00 - Abos and concessions available.