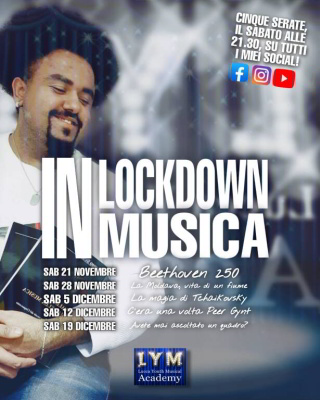 Lockdown In Musica is a project by Michele Sarti Magi, an activist and musician from Lucca. A collection of 5 short musical documentaries, on air every Saturday night at 9:30 pm on Sarti Magi's Instagram, Facebook and YouTube profiles.
The project, in collaboration with the Lym Academy, aims to approach young and old people to the world of classical and romantic music.
In the program on Saturday 28 November
9.30 pm - Online streaming on FB / mikeofficial97, IG / mikeofficial.97, YT / MikeChannelOfficial | Lockdown In Musica - La Moldava, vita di un fiume. Music tale of La Moldava, opera by Smetana, that tells the story of a river's life through music.
Dates
November 21 / December 19, 2020