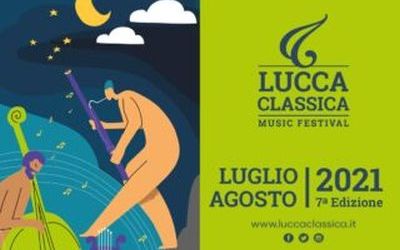 Great music and live concerts in new places with more than 40 events in the 7th edition of the Lucca Classica Music Festival, scheduled in the summer months of July and August.
The traditional anniversary edition is dedicated to Piazzolla, Stravinskij and Saint-Saëns. Insights on Napoleon and Dante Alighieri. A special memorial event dedicated to Ezio Bosso.
Scheduled on Friday 23 July
6:00 pm / 7:00 pm - Puccini Museum | Guided tour Turandot: la principessa immaginata dal maestro. Organized by the Giacomo Puccini foundation visit in Italian language of the  Giacomo Puccini birthhouse museum. What did the audience of the première of Turandot see and hear at the Teatro alla Scala on April 25, 1926, was it really what Giacomo Puccini wanted? Was the Princess that appeared on the scene the one imagined by the Maestro? The visit is part of the collaboration with the Textile Museum of Prato for the exhibition Turandot e l'oriente fantastico di Puccini, Chini e Caramba.
Reservation required at  tel. +39 0583 1900379 – e-mail: visite@puccinimuseum.it.
(Tickets: € 18,00 with aperitif)
9:15 pm / 10:45 pm - S. Caterina cloister. Real Collegio | Musica con Vista. Quartetto Werther (Abbiati Piero Farulli award 2020). Misia Iannoni Sebastianini, violin; Martina Santarone, viola; Simone Chiominto, cello; Antonino Fiumara, piano. Music by G. Mahler, L. van Beethoven, R. Schumann.
(Tickets: € 5,00)
The event is part of the summer concert series Real Collegio Estate. Complete program Real Collegio Estate (.pdf)
Presales of the main events online on oooh.events. Complete program Lucca Classica Music Festival.
Dates
July 3 / August 30, 2021
Start / End Time
6:00 pm / 7:00 pm - 9:15 pm / 10:45 pm
Place
Puccini Museum. Corte S. Lorenzo, 9 / Real Collegio, Chiostro di S. Caterina. Via della Cavallerizza - Lucca