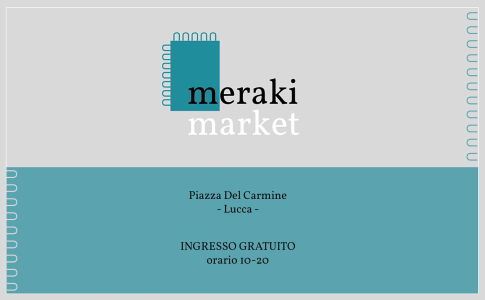 The Greek word Meraki literally means "doing something with passion", putting love and creativity into what you do.
A new market concept in a "historical market" of Lucca: the Mercato del Carmine. Meraki Market is a new design market with photo and art exhibitions, on Saturday 11 and Sunday 11 December from 10:00 am to 8:00 pm.
An occasion for the integration of local companies respecting environment promoting recycling and social responsibility.
The initiative comes from a group of creatives and artists from Lucca and Tuscany who joined to give life to a new event sharing common matters with passion.
Dates
March 27 / December 19, 2021
Start / End Time
10:00 am / 8:00 pm
Place
Mercato del Carmine. Piazza del Carmine - Lucca