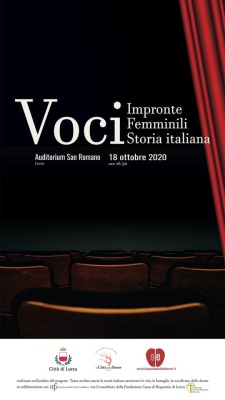 A relay race over time of female voices in Italy from different periods and places. Women who left indelible imprints in different contexts and environments told through the voices of local contemporary artists from Lucca.
The meeting Voci: impronte femminili nella storia italiana (Voices: female footprints in Italian history) is held on Sunday 18 October at 4.30 pm at the San Romano Auditorium.
14 actresses under the direction of Michela Panigada tell the story of 14 extraordinary women; stories that help us to believe in our dreams. Through the voice of the readers everyone can find their own imprint, the echo of their own voice.
Introduction by Councilor Ilaria Vietina of the City of Lucca, Marica Barghetti for enciclopediadelledonne.it and Daniela Grossi for luccacittadelledonne.
Reservations required by writing an email to cittadelledonne.lucca@gmail.com. Poster available  (jpg format).
Start / End Time
4:00 pm / 8:00 pm
Place
Auditorium di San Romano. Piazza San Romano - Lucca