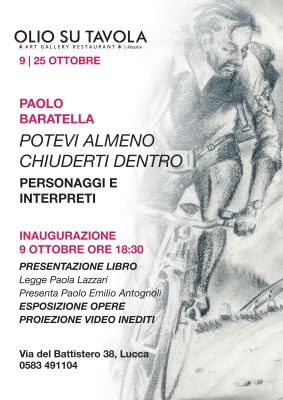 Paintings and words. The exhibition "Potevi almeno chiuderti dentro. Personaggi e interpreti" (You could at least stay closed inside. Characters and interpreters) opens on Friday 9 October at 6:30 pm at the OlioSuTavola art gallery, with the presentation of the book by Paolo Baratella, edited by Martina Bacci di Capaci.
The exhibition, which also includes the screening of unpublished videos, is openend with readings by Paola Lazzari and presentation by Paolo Emilio Antognoli, until Sunday 25 October.
Paolo Baratella, born in 1935, "took part in post-war commitment painting, transforming it from the inside" - explains Paolo Emilio Antognoli, author of the critical text -. "In the 1960s he reacted to American Pop Art with a bold critique of politics and to the new consumer society. From this independent and minority position he produces a sarcastic, ironic, hyperbolic criticism, using the most diverse tools - including happenings, theater, photography, photo novels - in the creation of great pictorial counter-spectacles, halfway between the big screen of cinema and fresco painting. The style and genres he has been using since the 1970s were later discovered again by the new cinema".
For information please call +39 0583 491104. Website: www.oliosutavola.com. Poster available (in jpg).
Dates
October 9 / 25, 2020
Start / End Time
Wed / Sun - 5:30 pm / 12:00 am. Mon, Tue and in the morning by reservation only
Place
Contemporary art gallery OlioSuTavola. Va del Battistero, 38 - Lucca