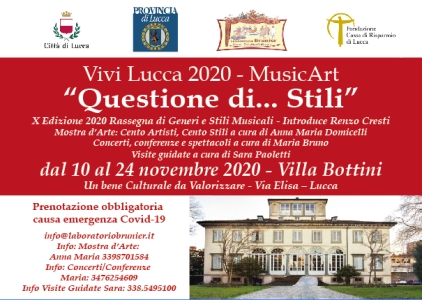 X edition of the festival of musical genres and styles with the introduction by Renzo Cresti, an art exhibition entitled Cento Artisti, cento Stili curated by Anna Maria Domicelli, concerts, conferences and shows curated by Maria Bruno, guided visits by Sara Paoletti.
Reservation is required.
For Info and reservations: info@laboratoriobrunier.it; art exhibition: tel. +39 339 8701584; concerts and conferences: +39 347 6254609; guided tours: +39 338 5495100.
Dates
December 14 / 24, 2020
Place
Villa Bottini. Via Elisa, 9 - Lucca