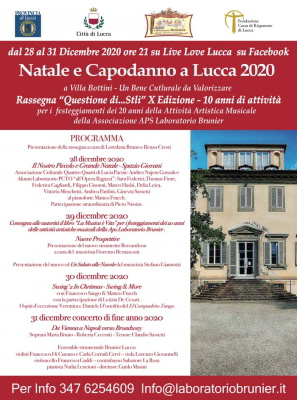 X edition of the review of musical genres and styles "Questione di... Stili" ("Matter of ... Styles"), with presentation by Loredana Bruno and Renzo Cresti.
The celebrations and concerts for the 20 years of the Musical Artistic Activity of the APS Laboratorio Brunier Association are broadcast from 28 to 31 December at 9:00 pm from Villa Bottini in streaming on the YT / Live love Lucca channel and on the FB / Brunier Association page.
As usual, the exhibition includes a space dedicated to young people; a space dedicated to musical novelties with the presentation of the new musical instrument, the Bercandeon, an evolution of the accordion by the musician Fiorenzo Bernasconi and the presentation of the latest CD by Stefano Giannotti. A space dedicated to American genres from Jazz, Soul, Swing to Tango and a concert to greet 2020 from the lighter aspects of cultured music, as a wish for the new year 2021. Finally, presentation of the volume on the 20 years of the Brunier Laboratory (and previously of the Il Ventaglio Association) and of the 10 of Question of styles.
Complete programme on www.laboratoriobrunier.it. Poster (.jpg). Info: mobile: +39 347 6254609; e-mail: info@laboratoriobrunier.it.
Dates
December 28 / 31, 2020