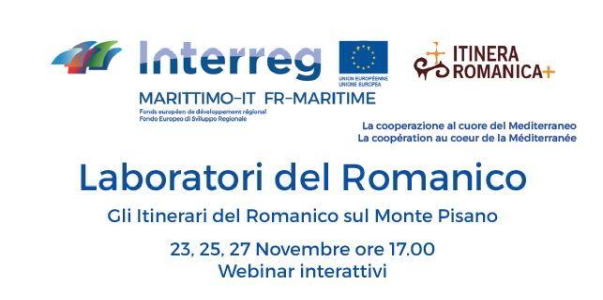 ITINERA ROMANICA + is a cross-border project between Italy and France that enhances the Romanesque cultural heritage spread in the five regions of the cooperation area: Tuscany, Liguria, Sardinia, Corsica and PACA, through the creation of connecting routes between accessible Romanesque sites and the development of joint protection, promotion and enhancement actions.
Part of these are the Romanesque Workshops Laboratori del Romanico - Gli itinerari del Romanico sul Monte Pisano (Romanesque itineraries on Mount Pisano). Three days of training, information and approach to this inestimable cultural heritage.
In the program on Wednesday 25 November
5:00 pm / 6:00 pm - On Zoom (with registration) |  La valorizzazione del patrimonio Romanico del Monte Pisano: opportunità per il territorio (The enhancement of Romanesque heritage on Mount Pisano: opportunities for the territory). Curated by: ARCO (Matteo Belletti - Andrea Ferrannini).
Dates
November 23 / 27, 2020
Start / End Time
5:00 pm / 6:00 pm