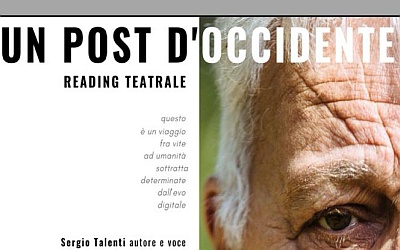 Un post d'occidente - A post from the West is the theatrical reading by the Cluster association. On Saturday 11 December at 6:00 pm at the Auditorium of the Banca del Monte Foundation, Sergio Talenti, author and voice, reads his poems with background sounds and improvised music.
In support of the author the following guests will participate:Giampaolo Capovilla, actor; Maria Elena Romanazzi, soprano and performer; Lucia Guerra, guitar; Alex Biagi, tubox; Alberto Gatti, live electronics; Fulvio Renzi, soundtracks. Composition and direction, Girolamo Deraco.
With Francesca Fazzi and Donatella Buonriposi.
Place
Auditorium Fondazione Banca del Monte. Piazza San Martino, 4 - Lucca