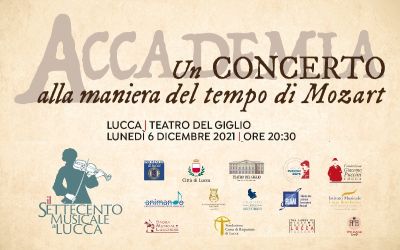 "Accademia. Un concerto alla maniera del tempo di Mozart" - A concert in Mozart style is a special event promoted as part of the music festival review Il Settecento musicale in Lucca which re-proposes in a modern key a concert program typical of the eighteenth-century public concert seasons. An extraordinary opportunity to get in touch with the golden music century of Lucca.
On Monday 6 December at 8:30 pm on the stage of the Giglio theater the musicians of the Animando Ensemble, the "Luigi Boccherini" Chamber Orchestra, the "L. Boccherini" ISSM Orchestra and the Adorno Quartet will alternate with a music program by Luigi Boccherini, Franz Joseph Haydn, Wolfgang Amadeus Mozart and Carl Ditters von Dittersdorf.
A program according to the manner of the time, very different from those of the modern symphonic concerts. In accordance with the customs of the time, this "Accademia" includes the four movements of a Symphony by Luigi Boccherini distributed at different times of the evening and interspersed with pieces of different genres and by other authors in an captivating alternation of vocal music, chamber music and soloist concerts.
For info and reservations:
Ticket office Teatro del Giglio, from Wednesday to Saturday 10:30 am / 1:00 pm and 3:30 pm / 6:00 pm.
Tel: +39 0583 465320
e-mail: biglietteria@teatrodelgiglio.it
 
Place
Giglio theater. Piazza del Giglio, 13/15 - Lucca