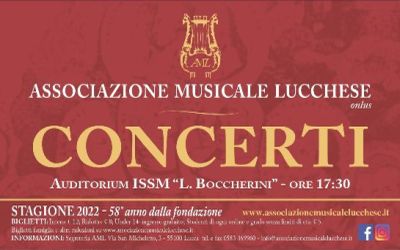 The best national and international interpreters and young talents for the chamber music festival of the Associazione Musicale Lucchese.
A program including an unusual repertoire with contemporary and innovative sounds, with a look on traditional music.
On program on Saturday February 19  
5:30 pm Auditorium del Suffragio | Happy birthday Luigi Boccherini
Giovanni Gnocchi, cello, accompagnied by the orchestra ISSM L. Boccherini. 
Music by L. Boccherini.
The concert is preceded by a round table organized by the Centro Studi Boccherini in memory of Remigio Coli, a recently deceased Boccherini scholar.
Dates
January 23 / November 27, 2022
Place
Auditorium del Suffragio. Piazza del Suffragio - Lucca
Ticket
€ 12,00. Concessions available.