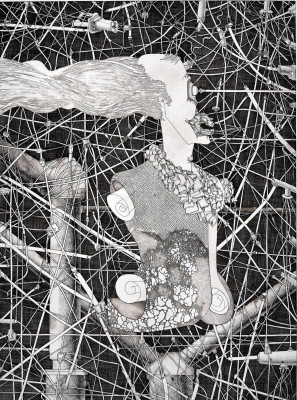 Dreamlike visions that open up to new dimensions of space and time and reveal the artist's subconscious in his youth. The artist investigates his deepest parts through characters with surreal features with an expressive form that implies great skills and "maniacal precision".
This is how Adriano Venturelli's solo exhibit "Automatismo psicologico" takes shape. From 1 February to 9 May, in the rooms of the Lu.C.C.A. Lounge & Underground the exhibition curated by Matteo Graniti.
Etchings, aquatints and inks made by Venturelli between the end of the seventies and the beginning of the eighties are exposed.
Thursday 11 February at 6:00 pm live on Facebook on the museum's page (https://www.facebook.com/luccamuseum/)
In-depth study of Venturelli's works on  together with the artist, curator Matteo Graniti and the director of the Lu.C.C.A. Museum, Maurizio Vanni.
For info and reservations: tel. +39 0583 492180 - info@luccamuseum.com.
Dates
February 1 / May 9, 2021
Start / End Time
Tue. / Fri. - 14:00 / 18:00: Sat. / Sun. - 10:00 / 18:00; Closed on Monday.
Place
Lu.C.C.A. – Lucca Center of Contemporary Art, Via della Fratta, 36 - Lucca