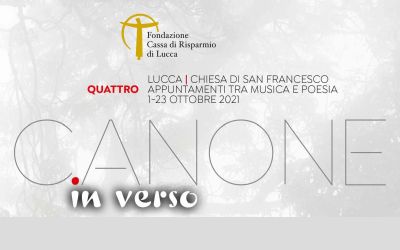 Canone in verso from 1 to 23 October. 4 events of music and poetry for the festival held in the Church of San Francesco.
The program on Saturday 16 October
9.00 pm - Church of S. Francesco | Serata Baudelaire. Baudelaire night for the bicentenary of the birth. Chille de la Balanza theater company stages a traveling show dedicated to the great French writer and poet. Readings, music, dance and images, with rare period films and a short trailer on a historic performance of the overture of Tristan and Isolde, the occasion of the first meeting between Baudelaire and Wagner. The scholar Michela Landi introduces the event.
Online booking on www.fondazionecarilucca.it from 12:00 pm on Wednesday 13 October to 12:00 pm on Saturday 16 October.
Dates
October 1 / 23 ottobre, 2021
Place
Church of S. Francesco. P.zza S. Francesco - Lucca