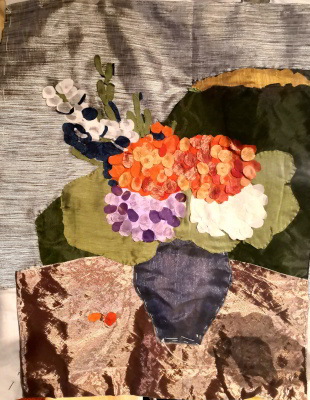 *** Exhibition temporarily closed from 15 february to 1 march ***
The Lu.C.C.A. - Lucca Center of Contemporary Art from February 2nd to 19th, in the lounge on the 1st floor, presents the exhibition "Dal pennello al tessuto" organized by Il Filo Magico workshop in collaboration with the Archimede association.
A selection of fabric paintings and tapestries, inspired by the works of famous artists, in particular by the Impressionists and Van Gogh, which represent the final goal of a long artistic and expressive rehabilitation carried out by the participants of the Il Filo Magico workshop for adult mental health rehabilitation.
Dates
February 2 / 19, 2021
Start / End Time
Mon. / Fri. - 2:00 pm / 8:00 pm
Place
Lu.C.C.A. – Lucca Center of Contemporary Art, Via della Fratta, 36 - Lucca
Ticket
Combined ticket exhibits "La realtà svelata" + "Dal pennello al tessuto": € 8,00  (concessions) / € 10,00 (full price)