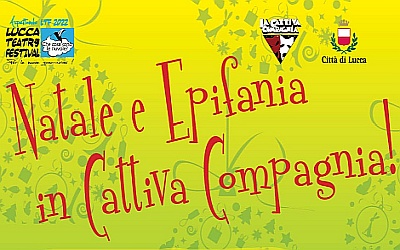 Christmas and Epiphany with the Cattiva Compagnia theater! Three days of Baby Parking Teatrale, at the Agorà Auditorium in the Historic Center of Lucca, for children from 6 years and a show for children from 3 years at the Idelfonso Nieri Theater in Ponte a Moriano.
Scheduled today, Saturday 11 December
3:00 pm / 6:30 pm - Auditorium Agorà | Baby Parking Teatrale. Participation of the children in a theater workshop conducted by operators of La Cattiva Compagnia, participation in a reading with actors from La Cattiva Compagnia and finally creation of a small gadget in a creative workshop with the nannies of BadaBimbi.
Reservations required per email to prenotazioni@luccateatrofestival.it
Dates
December 11, 2021 / January 9, 2022
Start / End Time
3:00 / 6:30 pm
Place
Auditorium Agorà. Via delle Trombe, 6 - Lucca