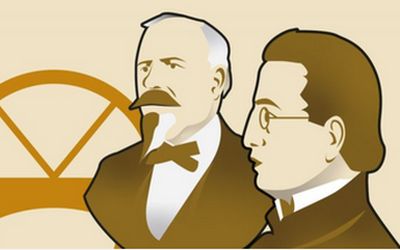 To celebrate the bicentenary of Eugenio Barsanti's birth, the Barsanti and Matteucci Foundation organizes a celebration day entitled Barsanti e Matteucci e il motore a scoppio: ieri, oggi e domani (Barsanti and Matteucci and the internal combustion engine: yesterday, today and tomorrow).
On Saturday 27 November, from 9:30 am at Guinigi Chapel, S. Francesco Museum Complex the event opens with a conference about the long journey that led from the internal combustion engine to the new electric and hydrogen cars, enriched by an exhibition of fascinating and prestigious vintage cars in the Cortile degli Osservanti until 4:30 pm.
Scheduled today:
9:00 / 11:00 - Opening of the event, institutional greetings and presentation of the Barsanti and Matteucci Foundation.
11:00 / 11:30 - Conference: Veicoli d'Epoca: beni culturali, opere d'arte (Vintage Vehicles: cultural heritage, works of art). Speaker: Dr. Luca Manneschi, President of the ASI Culture Commission.
11:30 / 12:00 - Conference: Rapporti tra design e moda nell'evoluzione dell'automobile (Relations between design and fashion in the evolution of the automobile). Speaker: Arch. Massimo Ruffilli, President of ACI Florence.
12:00 / 12:30 - Conference: Dalla benzina all'idrogeno... Di cosa si nutriranno le nostre auto in futuro? (From petrol to hydrogen ... What will our cars feed on in the future?) Speaker: Prof. Ing. Giovanni Ferrara, University of Florence.
12:30 / 13:00 - Final discussion and closing of the event.
Start / End Time
9:30 am / 4:30 pm
Place
S. Francesco Museum Complex. P.zza S. Francesco - Lucca