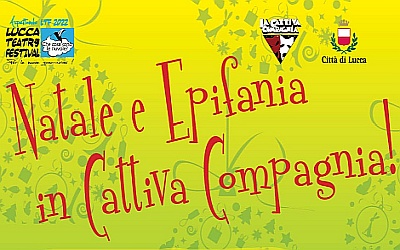 Christmas and Epiphany with the Cattiva Compagnia theater! Three days of Baby Parking Teatrale, at the Agorà Auditorium in the Historic Center of Lucca, for children from 6 years and a show for children from 3 years at the Idelfonso Nieri Theater in Ponte a Moriano.
Scheduled on Sunday 9 January
5:00 pm - Auditorium Vincenzo Da Massa Carrara a Porcari | Chi aiuta Pierino? Theater performance for children. Inspired by the music fable "Peter and the wolf" by Sergej Prokof'ev.
At the end the Befana and the Befanotto witches will surprise the audience.
Reservations required per email to prenotazioni@luccateatrofestival.it
Dates
December 11, 2021 / January 9, 2022
Place
Auditorium Vincenzo Da Massa Carrara. Via Roma, 121 - Porcari (LU)