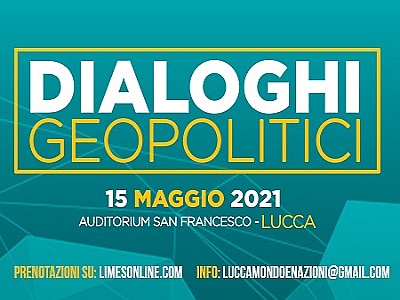 1st edition of the Limes festival dedicated to Geopolitical Dialogues, scheduled for Saturday 15 May from 5:00 pm in the church of San Francesco. The Festival, promoted by the LuMeN (Lucca Mondo Nazioni) and Limes association, features Lucio Caracciolo, the elite of national and international journalism, and Alessandro Barbero, a great historical popularizer.
The program is organised with two 'dialogues':
5:00 pm - Il triangolo sì. Presentation of the new issue of Limes, an Italian geopolitical magazine, dedicated to the Italy-France-Germany relationship, on newsstands, bookstores and ebooks as early as 13 May. Participants: Lucio Caracciolo, Fabrizio Maronta, editor and head of international relations of Limes, Dario Fabbri, journalist, scientific advisor and coordinator America of Limes.
7:00 pm - L'Italia di Napoleone. Lucio Caracciolo talks with Professor Alessandro Barbero of the University of Piemonte Orientale on the 200th anniversary of Napoleon's death.
Reservations required on limesonline.com starting from the afternoon of Monday 10 May. Live streaming on YT / Lucca Mondo e Nazioni – LuMeN.
For information: luccamondoenazioni@gmail.com. Poster (.jpg).
Start / End Time
17:00 / 21:00
Place
Chiesa di San Francesco. Piazza San Francesco - Lucca