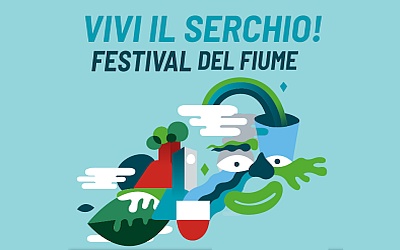 "Tutto è connesso. Diversità tra natura, persone e culture" (Everything is connected. Diversity between nature, people and cultures). This is the title chosen for the 3rd edition of the River Festival " Vivi il Serchio! Festival del Fiume".
Many environmental activities are held at the Riva degli Albogatti educational farm and in the area of the river park, with meetings, exhibitions, workshops, music, tastings and entertainment, inspiring the idea of a future vision in the sign of innovation through the image of the river as a metaphor for life experiences of change and transformation, exploring the great landscape heritage that the Serchio river offers.
Scheduled this weekend:
Friday 11 June
in the afternoon - I Parchi fluviali: luoghi per la biodiversità e il benessere delle comunità. Come gestirli? Esperienze a confronto (River parks: places for biodiversity and community well-being. How to manage them? Comparing experiences) - conference
in the evening - Luci nella notte, a spasso con le lucciole, ovvero non è tutto oro ciò che luccica (Lights in the night, walking with fireflies, not all that glitters is gold) - Night walk with Roberto Canovai of DISAAA UNIPI
Saturday 12 June
in the morning - A ruota libera! (Freewheeling) - bicycle ride for the environment
in the afternoon - bicycle repair workshop for bike maintenance and small repairs.
Cicloturismo e territorio (Bike tourism and the territory) - Conversation on bike tourism and cycle tracks, an opportunity for the Serchio river area.
Sunday 13 June
in the morning - Alla scoperta delle vagabonde (Discovering vagabonds) - botanical walk with Stefano Benvenuti from DISAAA UNIPI;
in the afternoon - Erbi in pentola (Herbs in the pot) - show cooking with Elena Pardini, Slow Food. Let's learn how to cook wild herbs together to discover forgotten flavors again.
The complete program of the event on FB / Festival del Fiume. Program (.pdf).
Place
Urban educational farm Riva degli Albogatti, Via del Callarone, 350. Parco Fluviale - Lucca