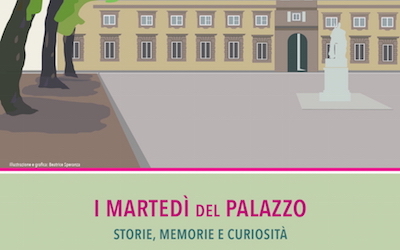 I martedì del Palazzo. Storie, memorie e curiosità (Tuesdays at the Palace. Stories, memories and curiosities). Discover Palazzo Ducale in Lucca through the historical characters who lived there, ranging over time and places, including letters, documents, diaries, recipes, perfumes and fashion.
From 15 February every Tuesday local historians of the Armory present informative meetings in Italian language on the history of the Government Palace of Lucca, which over the centuries was the seat of the Republic, of the Principality of Elisa Bonaparte Baciocchi, of the Duchy of Maria Luisa of Borbone, of the Province of Lucca and the Prefecture of Lucca.
Scheduled on Tuesday 15 March
4:30 pm | Armory of Palazzo Ducale
Le nuove cucine di Palazzo: organizzazione e grandeur. The new kitchens of Palazzo: organization and grandeur. Curated by Velia Gini Bartoli, architect.
For information and reservations: from Monday to Friday 9:30 am / 1:30 pm tel. +39 0583 417363
Dates
February 15 / April 12, 2022
Place
Armory of Palazzo Ducale. Cortile Carrara, 1 - Lucca