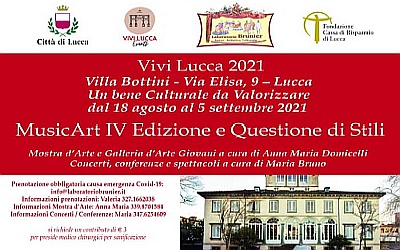 Art exhibitions and concerts at Villa Bottini in occasion of Summer Edition of MusicArt - IV Edition, from 18 August to 5 September.
Entropismo e metafisica / Entropism and metaphysics are the subjects of the art exhibition organized by Anna Maria Domicelli introduced by the philosopher and writer Marco Rocca.
Le fervide menti degli artisti at the Giovani art gallery where renowned painters and sculptors together with talented young artists expose their works.
The exhibitions are open every day from 3:00 pm / 7:30 pm and are accompanied at 6:00 pm by Musica in Villa, concerts by Maria Bruno. Protagonists are professional singers and musicians in the role of godmothers and godfathers of young emerging artists.

 
Furthermore, from 1 to 5 September, a music festival with different genres entitled Questioni di... Stili by the musicologist Renzo Cresti is organised. From 6:00 pm to 7:30 pm renowned musicians and musicologists will be the guests of the famous music critic.
Reservations required by calling +39 327 1662038 or by writing to info@laboratoriobrunier.it.
Information for the art exhibition at +39 339 8701584.
Information for concerts and conferences at +39 347 6254609.
The complete program is available on www.laboratoriobrunier.it.
The events are included in the Settembre lucchese 2021 program.
Dates
August 18 / September 5, 2021
Start / End Time
3:00 pm / 7:30 pm
Place
Villa Bottini. Via Elisa, 9 - Lucca