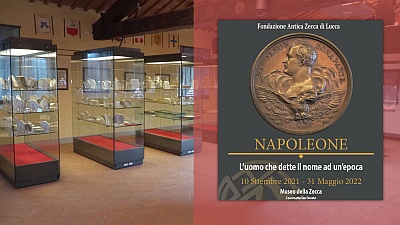 Napoleone. L'uomo che dette il nome ad un'epoca is the title of an exhibition in the Ancient Mint museum of Lucca, on the upper floor of Casermetta San Donato on the city wall which opens on Friday 10 September at 5:00 pm, and will proceed until 31 May 2022.
This exhibition has been conceived to celebrate the bicentenary of Napoleon Bonaparte's death in one of the Italian cities that best preserve traces of his glorious empire. In the enormous work of cataloging and studying the collection of molds of the ancient plaster factory of the Barsanti family in Terzoni, many casts of Napoleonic medals have been found.
An exhibition that is the result of careful study: these molds combined with the original medals thanks to the concession of the Bartolomei family, heir of the Barsantis, make it possible to retrace the salient stages of Napoleon's life and military campaigns. In fact, he had a very large number of copies minted to celebrate military success, promote his political and family entourage, as well as the administrative and social reforms he carried out and, more generally, to imprint in the memory the most significant episodes of his empire.
Visitors can find an answer to these and many other questions in the showcases of the exhibition, set up for the occasion with particular settings, linked to the topics represented on the medals.
For information please call +39 0583 282320 or on FB / anticazeccadilucca.
Dates
September 10, 2021 / May 31, 2022
Start / End Time
9:30 am / 12:30 pm – 2:00 pm / 4:00 pm (mon / fri)
Place
Mint museum. Casermetta San Donato, city wall – Lucca
Ticket
€ 4,00 / € 6,00. Concessions available