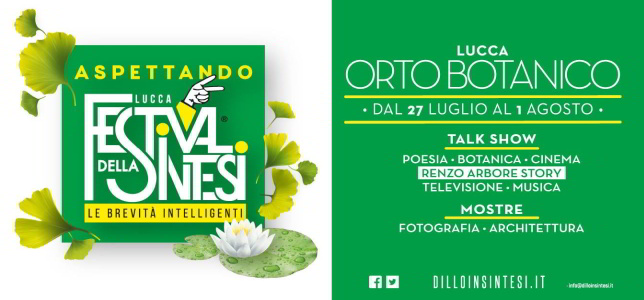 Light summer edition of the 5th Festival della Sintesi in Lucca from 27 July to 1 August with 6 events dedicated to 'smart shortness'. Six talk shows with many guests in an amazing setting: the Botanical Garden of Lucca. The Festival della sintesi ranges from television to music, from botany to poetry and, this year, even to architecture. Side events of the festival are a series of exhibitions and a final charity auction.
In the program, Monday 27 July
9.15 pm - Botanical Garden of Lucca | Poesia: Giuseppe Ungaretti. Le sintesi poetiche, 50 anni dopo (Poetry: Giuseppe Ungaretti. The poetic syntheses, 50 years later). Edited by Daniela Marcheschi, literary critic, anthropologist of the arts; Giorgio Simonelli, university professor for history of television. Conductor Sirio Del Grande, journalist. The readings are performed by the actors of La Cattiva Compagnia.
Reservations required on www.eventbrite.com or by calling +39 340 0882703. The complete program of the festival on www.dilloinsintesi.it. Live streaming of the festival on institutional web channels.
Dates
July 27 / August 1, 2020
Start / End Time
21:15 / 23:30
Place
Botanical garden of Lucca. Via del Giardino Botanico, 14 - Lucca