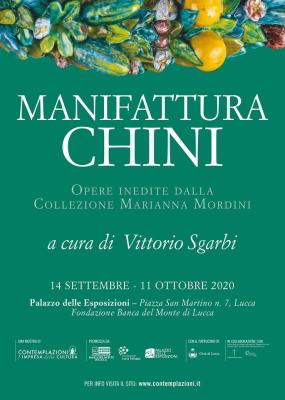 Palazzo delle Esposizioni in Lucca opens the autumn season with an exhibition entitled Manifattura Chini. Opere inedite dalla Collezione Marianna Mordini. Unpublished works from the Marianna Mordini Collection, a Contemplazioni© project curated by Vittorio Sgarbi.
The exhibition can be visited from September 14 to October 11. On display the spectacular decorations by Chini with their infinite combinations of geometries and figures in continuous metamorphosis. The artistic production and tradition of the Chini Manufacture is presented with particular attention to the activity of Galileo Chini, one of the most multifaceted artists of the Liberty art style.
The works on display include ceramics, the very protagonists of Chini's production, conceived as a work of art between the past and modern style, but also as the earliest forms of design or as colorful and triumphal decorative elements.
Frequent subjects for the ceramic and glass production are religious themes. Mostly decorations destined for stained glass windows now lost of which now only the preparatory drawings still testify the extent of this activity. Among the preparatory studies there are also a chess and a chinoiserie series.
Faithful to the passion for the Orient, the Manufacture also produced a type of cache-pot called Cio Cio San intended to contain plants acting as hair for a large head.
Allegories of the four seasons and scenes of rural activities are the protagonists of a series of studies carried out towards the end of the 30s, probably for decorations of the Terme di Castrocaro springs. Landscapes are recurring, becoming real scenographic images due to the accuracy of the details and their articulation.
The vernissage is on Monday 14 September morning and reserved for guests. From 3:30 pm the exhibition opens to the public, in the presence of the curator, an art historian and qualified guides.
A cultural meeting is scheduled every Saturday, preceded by a guided tour. Reservations are required by writing to segreteria@fondazionebmlucca.it or by calling +39 0583 464062. The cost of the guided tour is € 3.00 per person.
Extraordinary openings: Saturday 3 and Sunday 4 October / Saturday 10 and Sunday 11 October, 10:00 am / 1:00 pm.
The event is included in the Settembre Lucchese 2020 program.
Dates
September 14 / October 11, 2020
Start / End Time
3:30 pm / 7:30 pm. Closed on Mondays
Place
Palazzo delle Esposizioni della Fondazione Banca del Monte. P.zza S. Martino, 7 - Lucca