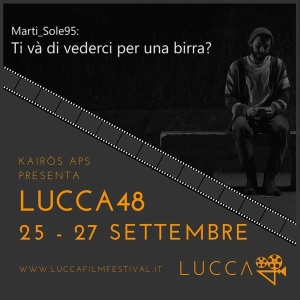 2nd edition of Lucca48, festival of short films made in 48h. A festival within the festival, part of the program of the Lucca Film Festival and Europa Cinema 2020.
Lucca 48 takes place over a period of time between 7:30 pm on Friday 25 September and 7:30 pm on Sunday 27 September. Each participating team must complete their work in time to be delivered within 48 hours.
Only short films that categorically meet the aforementioned deadline can participate in the official competition.
On Saturday 3 October final event at the Cinema Astra in Lucca together with the awards ceremony of the Lucca Film Festival and Europa Cinema 2020 with screening and awarding of the best films. The jury made up of professionals and experts in the sector will award the "Best film" which will be shown entirely.
During the award ceremony of the internal competition in Lucca 48 entitled Rolling the Future and dedicated to those who are able to express the key concepts of Sofidel, such as eco-sustainability and the enhancement of the role of young people in the best way possible in their short films.
A challenge of creativity without age limits for those who want to experiment new expressions through an entertaining  art adventure.
Start / End Time
21:00 / 23:00
Place
Cinema Astra. Piazza del Giglio, 7 - Lucca