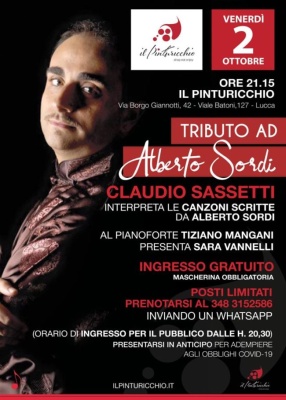 A tribute to Alberto Sordi with the tenor Claudio Sassetti on Friday 2 October from 9:15 pm in the culture room at the Pinturicchio shopping center.
The event is part of the Pinturicchio cultural agenda, aiming at spreading culture in the community with beauty, quality, art and music happenings.
The tenor Claudio Sassetti interprets songs written by the great actor. On the piano Tiziano Mangani. Sara Vannelli presents the evening.
Reservation is required. It is necessary to send a whatsapp message to the number +39 348 3152586. Admission time for the public from 8:30 pm.
Complete calendar of initiatives on the website www.ilpinturicchio.it.
Place
Shopping center Il Pinturicchio. Via Borgo Giannotti, 42 - Lucca