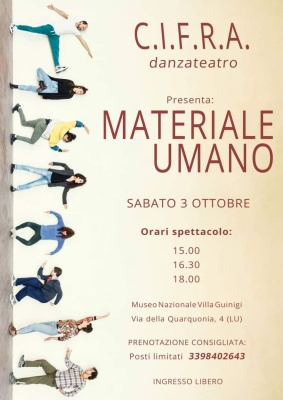 As part of the initiatives for the enhancement of the regional museum network of Tuscany, on Saturday 3 October at 3:00 pm / 4:30 pm / 6:00 pm the garden of the National Museum Villa Guinigi hosts the site-specific performance Materiale Umano by the Itinerant Collective Training Formazione Ricerca Azione (C.I.F.R.A.) in collaboration with the local association "ASD Fuoricentro Danza".
"What is the fate of bodies and freedom in the era of digital capitalism?" is the question they answered through dance and theater.
The contemporary dance performance is the result of a week of research carried out by the artists of the Collective in Lucca, on the subject of the impact that the current socio-political reality generates on human relationships and the related changes in our bodies and emotions.
Reservations are recommended at +39 339 8402643. Max 25 people.
Start / End Time
3:00 pm / 7:30 pm
Place
Garden of the National museum Villa Guinigi. Via della Quarquonia, 4 - Lucca