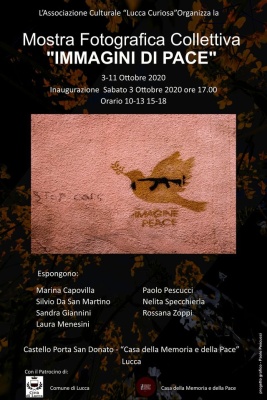 Inauguration of the collective photo exhibition Immagini di Pace (Images of Peace) created by the Cultural Association Lucca Curiosa on Saturday 3 October at 5:00 pm. The exhibition includes the pictures of Marina Capovilla, Silvio Da San Martino, Sandra Giannini, Laura Menesini, Paolo Pescucci, Nelita Specchierla, Rossana Zoppi.
Images of nature, of distant places, of stories that might stimulate feelings of peace in the visitors. The exhibiting photographers present during the inauguration will personally illustrate the reasons that led to the shooting of the images presented to the public.
A short photo shoot presents a preview of the exhibition spaces and the highlights of the inauguration.
The exhibition can be visited until Sunday 11 October.
Dates
October 3 / 11, 2020
Start / End Time
10:00 am / 12:00 pm - 3:00 pm / 6:00 pm
Place
Casa della memoria e della pace. Castello di Porta San Donato, Piazzale S. Donato - Lucca