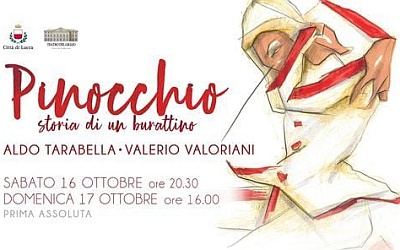 Absolute premiere in the opera season of the Giglio theater in Lucca.
On Saturday, October 16, at 8:30 pm and Sunday, October 17, at 4:00 pm on stage Pinocchio - Storia di un burattino (Pinocchio - Story of a puppet) a brand new opera by composer and opera director Aldo Tarabella.
Libretto by Valerio Valoriani. Director M° Lorenzo Biagi.
Scenes and costumes by Enrico Musenich.
Characters and performers:
Pinocchio - Leonora Tess, soprano;
Geppetto/Melampo - Clemente Antonio Daliotti, baritone;
Faith - Silvia Lee, soprano.
Children's Choir I cantori di Burlamacco directed by Susanna Altemura.
Orchestra of the ISSM Luigi Boccherini.
Reservations online at ticketone.it / teatrodelgiglio.it or at the theater's box office.
Dates
September 25 / 26, 2021
Place
Giglio theater, Piazza del Giglio, 13/15 - Lucca