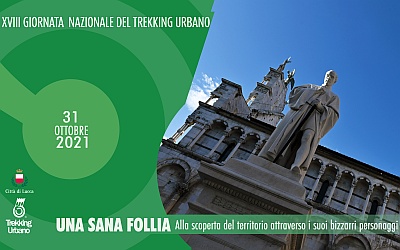 On Sunday 31 October the XVIII National Day of Urban Trekking is organised.
Annual appointment to discover small details often unnoticed by the visitors, hidden and unknown treasures of the wonderful area of Lucca, at a slow pace.
A gentle and sustainable tourism, suitable for all ages and all seasons, to experience the "green" soul of Italian cities in all different shades.
The theme of this edition is "Una sana follia. Alla scoperta del territorio attraverso i suoi bizzarri personaggi" - A sane insanity. Discovering the territory through its bizarre characters". Lucca offers a walk through the city by night in the company of famous and bizarre characters who have contributed to making the history of this small particular city also outside its famous city walls.
Route information:
Duration: about 2 hours;
Length: 3 km;
Difficulty: low;
Starting point: Palazzo Ducale - Cortile degli Svizzeri;
Departure time: 8:00 pm - 8:30 pm - 9:00 pm (1 group for each departure).
For info and reservations: IAT Lucca: Piazzale Verdi, tel. +39 0583 583150 - turismolucca@metrosrl.it / Piazza Curtatone, tel. +39 0583 442213 - info@turismo.lucca.it. Max 20 people per group.
Start / End Time
8:00 pm / 11:00 pm
Place
Palazzo Ducale, Cortile degli Svizzeri. Cortile Carrara, 1 - Lucca