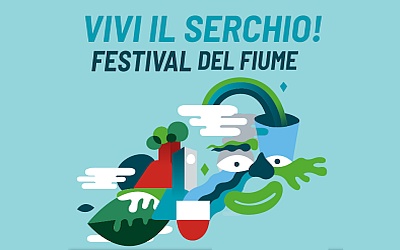 "Tutto è connesso. Diversità tra natura, persone e culture" (Everything is connected. Diversity between nature, people and cultures). This is the title chosen for the 3rd edition of the River Festival " Vivi il Serchio! Festival del Fiume".
Many environmental activities are held at the Riva degli Albogatti educational farm and in the area of the river park, with meetings, exhibitions, workshops, music, tastings and entertainment, inspiring the idea of a future vision in the sign of innovation through the image of the river as a metaphor for life experiences of change and transformation, exploring the great landscape heritage that the Serchio river offers.
Scheduled this weekend:
Friday 18 June
in the afternoon - conference "IN-HABIT: Lucca la prima città in Europa con una politica per gli animali", IN-HABIT: Lucca the first city in Europe with a policy for animals. Dissemination speech with Marcella Niccolini, ENCI instructor.
Saturday 19 June
"Il giro nel mondo in un giorno. Viaggiare incontrandosi", Around the world in one day. Traveling by meeting, by Caritas Diocesana
in the morning -  photographic exhibition "Questa non è..." by Matteo Fenili and tasting with the products of the AA Calafata
in the afternoon - show-cooking from around the world, meetings with travelers on two wheels and tastings with AA Calafata products.
in the evening - music with Guadats Junk Band.
Sunday 20 June
morning - "Connessioni sonore: ascoltare la mente, il corpo e il Fiume" , Sound connections: listening to the mind, body and the River. Yoga, music therapy, tai chi, meditation in nature;
in the afternoon - "Il Serchio dei bambini": show by Karacongioli, painting workshop Bambini in contrada,, reading aloud Lucca Pensieri Belli bookshop;
in the evening - music with LOL Laboratorio Orchestrale lucchese.
The complete program of the event is available on FB / Festival del Fiume. Program (.pdf).
Place
Urban educational farm Riva degli Albogatti, Via del Callarone, 350. Parco Fluviale - Lucca