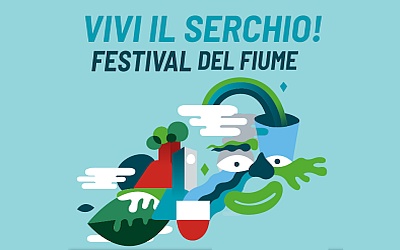 "Tutto è connesso. Diversità tra natura, persone e culture" (Everything is connected. Diversity between nature, people and cultures). This is the title chosen for the 3rd edition of the River Festival " Vivi il Serchio! Festival del Fiume".
Many environmental activities are held at the Riva degli Albogatti educational farm and in the area of the river park, with meetings, exhibitions, workshops, music, tastings and entertainment, inspiring the idea of a future vision in the sign of innovation through the image of the river as a metaphor for life experiences of change and transformation, exploring the great landscape heritage that the Serchio river offers.
Scheduled this weekend:
Friday 25 June
in the afternoon - "Diversità e neurodiversità. Il rapporto tra ambiente e una nuova visione della disabilità"- Diversity and neurodiversity. The relation between the environment and a new vision of disability - conference.
"Una storia tra i sentimenti" - A story between feelings - flash mob and theatre performance with the Allegra brigata company.
Saturday 26 June
in the morning - "il sabato dell'ambiente", Environmental Saturday, collective cleaning of the river
in the afternoon - "Ovunque in ogni cosa..." - Everywhere in everything, a meeting with Emy Petrini;
in the evening - photocontest award ceremony "Uno scatto per la biodiversità", A shot for biodiversity.
Sunday 27 June
in the morning - "Albomercato", with local artisans and producers;
in the afternoon - art workshops (loom, macramé, clay, papier mache, wood and creative recycling),
"Allocchi, barbagianni e altri animali della notte", Tawny owl, barn owl and other animals of the night, a conversation and walk with Marco Mastrorilli, ornithologist and writer.
The complete program of the event is available on FB / Festival del Fiume. Program (.pdf).
Place
Urban educational farm Riva degli Albogatti, Via del Callarone, 350. Parco Fluviale - Lucca