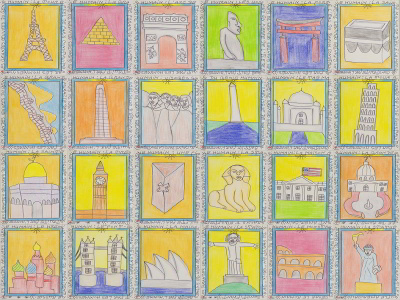 The anthological exhibition "Frédéric Bruly Bouabré. Arte Alfabeto Universale" at the Palazzo delle Esposizioni in Lucca is dedicated to the Ivorian artist who died in 2014, one of the most significant international authors of the post-World War II cultural scene.
Curated by Alessandro Romanini, the exhibition features over 350 works from private collections and the artist's family. Focus on the importance of dialogue between peoples and on the possibility of cultural cooperation based on the universal language of art.
Among the documents on display, many poetic texts and essays written by the artist, epistles and rarities, such as the original sketch of the clock designed by Bouabrè for Swatch.
Press conference on Friday 9 April at 12:00 am, with the curator and the promoters, including the Ambassador of the Ivory Coast in Italy, Samuel Ouattara. It is possible to physically participate in the auditorium of the Palazzo delle Esposizioni in Piazza San Martino, 7 and in streaming at the link https://zoom.us/j/99910770625 Meeting ID: 999 1077 0625 - Password: 219024.
Throughout the month of April the exhibition is virtual with guided online tours, virtual tours, videos, in-depth studies and digital activities published on www.fondazionebmluccaeventi.it and on the social media of the Banca del Monte di Lucca foundation and Palazzo delle Esposizioni (FB / FondazioneBML - FB / palazzoesposizionilucca - IG / palazzoesposizionilucca).
Extraordinary openings on 15th - 16th May at 4.00 pm - 7.00 pm; 22 - 23 / 29 - 30 May, 5 - 6 and 12 - 13 June 10:00 am - 1:00 pm / 4:00 pm - 7:00 pm.
For information and reservation: tel. +39 0583 464062 - mostre@fondazionebmluccaeventi.it.
Dates
April 9 / June 13, 2021
Start / End Time
9:00 / 17:00
Place
(April) online / (May - June) Palazzo delle Esposizioni, Fondazione Banca del Monte. Piazza san Martino, 7 - Lucca