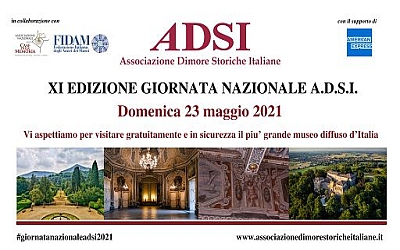 XXVI edition of open courtyards and gardens. In Tuscany, more than 130 historic residences including castles, fortresses, villas, parks and gardens welcome visitors to get to know these unique places of the largest open air museum in the area, without any charge.
In Lucca you can visit the following locations:
Conventual Complex of San Francesco. Piazza San Francesco - Lucca
Gardens of Palazzo Busdraghi. Via Busdraghi, 7 - Lucca
Gardens of Palazzo Massoni. Via dell'Angelo Custode, 24 - Lucca
Villa Grabau. Via di Matraia, 269 - Loc. San Pancrazio - Lucca
Villa Oliva. Via delle Ville, 2034. loc. San Pancrazio - Lucca
Villa Torrigiani in Camigliano. Via delle Ville. loc. Camigliano di Santo Gemma - Capannori.
From Sunday 23 May to Sunday 27 June a special Instagram Challenge in collaboration with the Photolux festival is organized.
Fot the participation please use the hashtag # Giornatanazionaleadsi2021 #adsi # photolux2021 #weareigers, the tags: @dimore_storiche_italiane, @photoluxfest.
The 25 best photos will be exhibited in Lucca from 4 to 26 September 2021 at Palazzo Bernardini.

Information oabout the open historic houses and reservations are available on the ADSI website. Reservation required online.
Start / End Time
10:00 am / 1:00 pm - 2:00 pm / 6:00 pm
Place
Lucca and surroundings