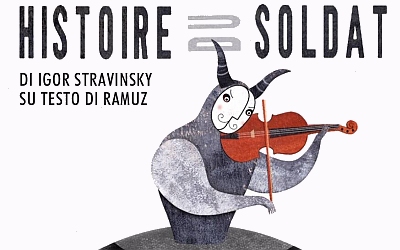 Histoire du Soldat is one of the great classics of twentieth century music. In the capitolo room of the Real Collegio, on Saturday 16 October at 9:00 pm the Florence ensemble La Filharmonie conducted by Nima Keshavarki, performs the chamber opera by Igor Stravinskij based on a text by Charles-Ferdinand Ramuz.
A real fairy tale in music that, through the words and the story of a soldier back from war, narrates the theme of being refugees.
On stage Andrea Bruni, in the role of the narrator and the soldier and Alessia De Rosa, who plays the devil. The ensemble is made up of: Nicola Dalle Luche, violin; Pablo Escobar, double bass; Iacopo Carosella, clarinet; Gabriele Randazzo, bassoon; Filippo Daga, trumpet; Alessandro Sestini, trombone; Omar Cecchi, percussion.
Reservations are required on l-histoire-du-soldat-real-collegio-lucca by 15 October, or by writing to segreteria@animandolucca.it by 16 October at 6:00 pm. In this case, the ticket can be collected at the entrance on the evening of the event starting at 8:15 pm.
Place
Real Collegio. Via del Collegio, 13 - Lucca
Ticket
€ 3,00 (+ presale) / € 7,00